Whichever marketing strategy you choose and whichever goals you meet on the way—be it a surge in traffic or increased brand awareness—you can't avoid measuring ROI. In the end, it's leads and revenue that matter, so in addition to tracking common marketing metrics, you also have to somehow tie these metrics to the profit you gain.
For SEO marketers, it means finding a way to link sales and SEO. In this post, we'll talk about organic leads—a metric that can help SEO specialists measure the effectiveness of their campaigns in monetary terms. We'll show you how to check whether your SEO endeavors actually generate revenue and will share some tips that will help you improve conversion rates and target the most profitable keywords.
How common analytics metrics can(not) help you measure revenue
Marketers use many data points to measure the success of targeted keywords, single out the most successful landing pages, and monitor engagement on organic searches.
Below, we'll go over the common metrics that are normally used to measure website performance. While they can all be useful, it's important to remember how these metrics are—and are not—connected to revenue.
Keywords. Choose your keywords wisely, and be aware of which keywords you're using on each page. By further tying your search terms to organic leads, you can figure out which keywords your potential customers used to find your business via search.
How to measure: You can check which keywords your website ranks for using Google Search Console and Google Analytics. Alternatively, you can use SE Ranking's Competitor Research tool to get additional data on every keyword, easily filter them, and further track rankings of the most important keywords.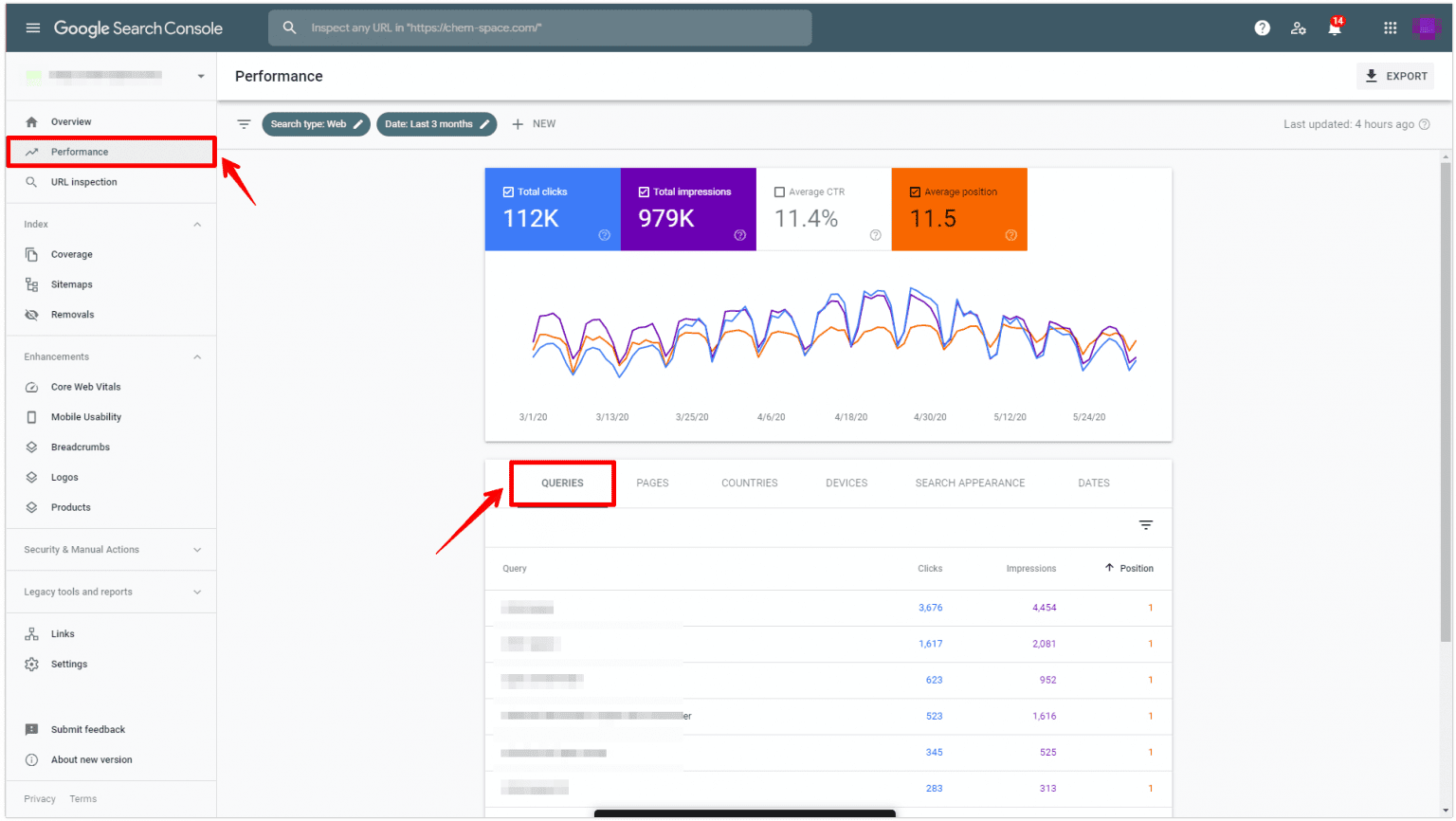 Search Rankings. Most of your SEO efforts are probably aimed at improving your search rankings, but it should be your middle goal, not an end goal. To attract more organic leads, you need to use the right keywords and do your best to make these particular keywords rank well. But then you'll have to check whether top rankings actually bring you profit by calculating which search terms bring you most of the revenue.
How to measure: You can monitor your rankings with the help of Google Search Console or use special rank tracking tools to get more accurate and up-to-date data. For example, SE Ranking's Keyword Rank Tracker allows you to get daily updates on your ranking in multiple locations.
Organic visibility. Your organic visibility is a share of impressions a website gets for all the tracked keywords. If your site ranks #1 for five different keywords, you'll have an extremely high organic visibility score. If your site ranks 20th for every keyword, you'll have a low organic visibility score. This information can give you an idea of how your site is performing when measured based on the keywords you're tracking.
How to measure: SE Ranking allows you to check search visibility of your whole site, groups of keywords, and separate keywords.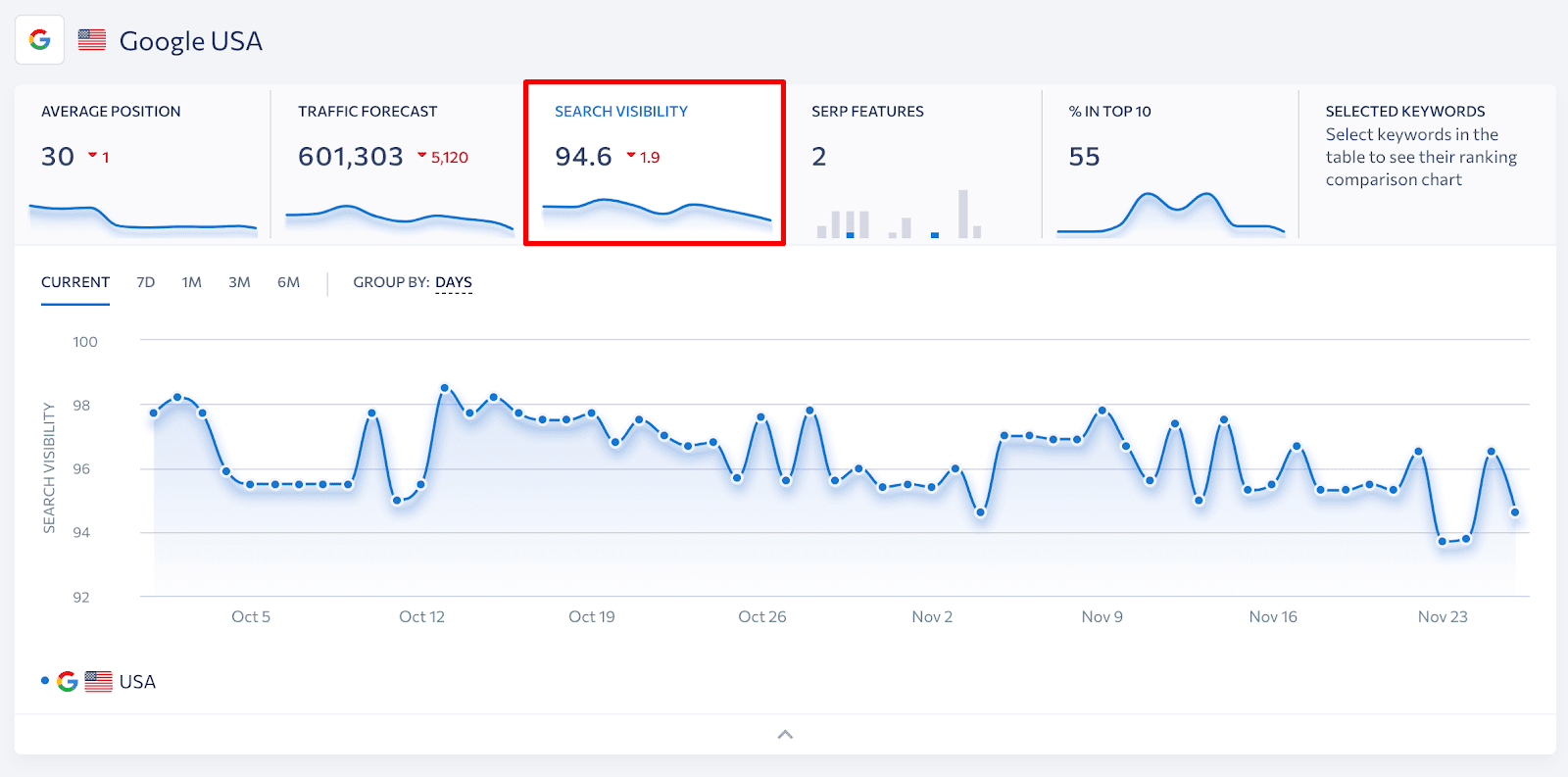 Click-through-rate (CTR). This metric shows the number of clicks you receive on your search snippets against the total number of impressions. Your click-through rate will increase as your site moves up on the search results page—more impressions will lead to more clicks. Still, it's difficult to tie this metric directly to sales without first going through the organic lead data.
How to measure: You can find data on your web-page's and search queries CTR in Google Search Console.

Organic traffic. This metric tracks raw traffic numbers and tells you how many people come to your site from organic search. Tracking your organic traffic over time will give you a good idea of whether your site is gaining traction in organic search or is falling behind. However, high traffic numbers do not guarantee high revenue, since traffic does not always convert well.
Referral traffic. This metric shows the number of people visiting your site by following a direct link. They may come from other websites, social media, or emails. Referral traffic is thus generated by your link building efforts, affiliate programs, social media, and email marketing.
How to measure: Google Analytics will provide you with all the necessary data on your website traffic numbers and its sources.
If hitting specific organic traffic numbers is one of your KPIs, you can take things a step further and use the traffic forecast data SE Ranking offers. The numbers are calculated based on the keywords you target and their rankings in specific search engines. The forecast will allow you to set objectives for future organic traffic numbers and adjust your overall SEO efforts depending on whether you hit your goals or not.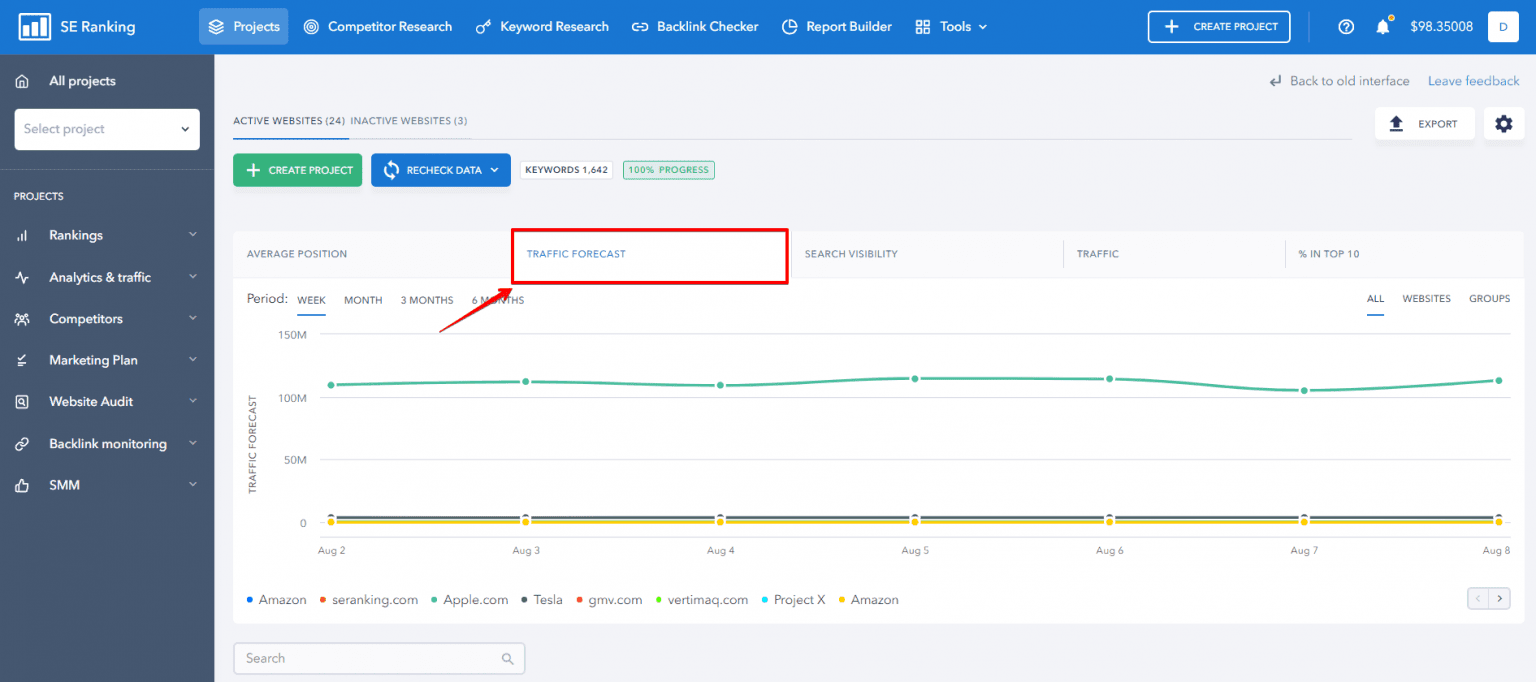 As you can see, all the popular analytics metrics give you an idea of how many potential customers can find you via search, but they don't make it clear whether the attracted website visitors will eventually bring the company any profit. To correlate your SEO efforts with revenues, you need to also track individual organic leads. It will give you data on who is finding your site, where they're coming from, and will help you identify the actual sales leads that are driven by organic search.
Organic Leads: The metric connecting sales and SEO
SEO is a marketing investment that is supposed to pay off. Using organic leads to prove SEO success makes it clear to non-marketers why they should care since everyone—from a CEO to a salesperson—understands that leads are fuel for sales.
The tips we'll share below will help you prove that your SEO efforts are having an impact on the company's bottom line.
First, we'll talk about how to measure the overall effectiveness of SEO as a marketing channel for your company based on how many organic leads are coming in—special digital marketing attribution software can help you identify leads coming specifically from organic search. Then, we'll share some tips that will help you identify the best-performing landing pages and to further promote these pages using the right keywords. Finally, we'll talk about comparing the organic leads value to paid leads value to better allocate your marketing budget.
Measuring overall SEO efforts
SEO remains the biggest marketing channel and accounts for 24.6% of website traffic for the largest SaaS companies, according to the research. However, traffic numbers are not enough to prove that company's SEO investments pay off. You need to get numbers that will clearly show that the traffic converts well and brings profit to the business.
Capture Every Conversion
Users may be coming to your website from an organic search and leave after a few minutes, or they may fill in a form, or chat with your sales managers. To capture every lead coming your way, you'll need a special software that will take notice of all the people getting in touch with you. Ideally, such software should track all possible interactions such as calls, forms, chats, e-commerce transactions and track those back to the marketing source. WhatConverts is a call tracking software that offers all the necessary features. It allows you to create reports like the one below, which shows every type of conversion based on the marketing source.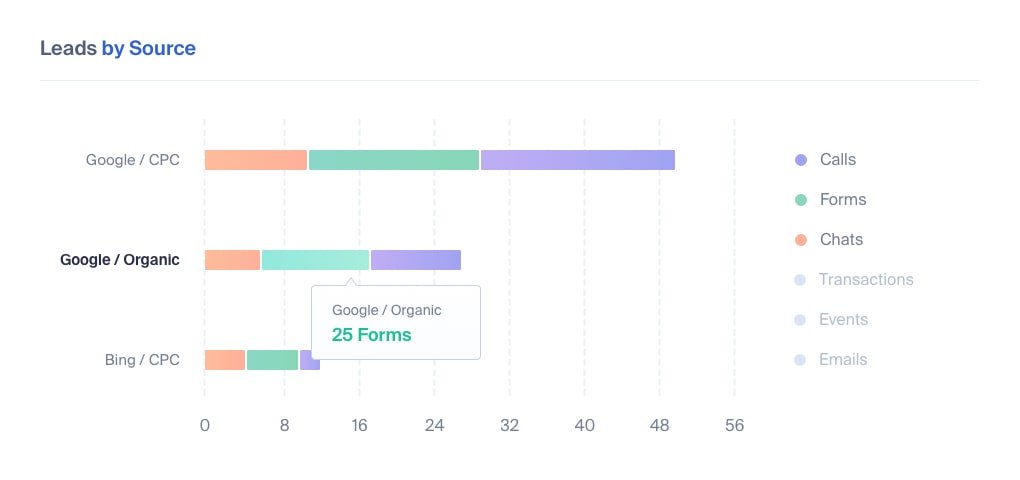 If you can capture every type of conversion (call, form, chat, transaction), then you know you're not letting any leads slip through the cracks. You'll be able to properly credit every organic search lead that comes in. Crediting leads to the right marketing source makes your data more reliable so you can make more informed decisions about where to allocate future marketing resources.
Qualify Organic Leads
Sometimes, people will google one of your target keywords, find your website, and fill out a form. That person might seem like a lead, but many of these conversions are not qualified. That is to say, they might be spam or someone with a budget that doesn't align with your business.
Qualifying (and disqualifying) leads will make your organic lead data more accurate.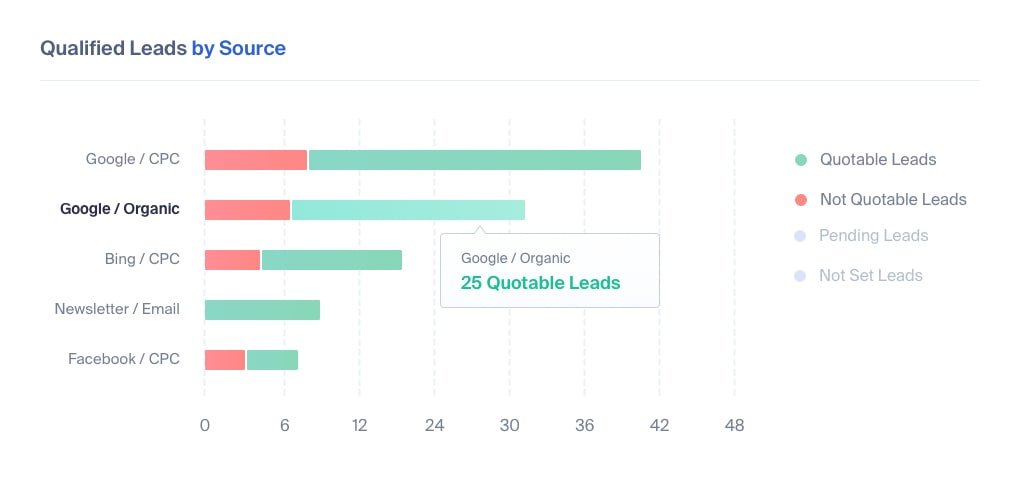 If you don't remove junk conversions from your data, you might overvalue certain keywords that are just attracting solicitors or spam. Junk conversions are conversions that aren't actual leads looking to make a purchase from your business.
To disqualify junk conversions, you will have to analyze chat transcripts and call recordings. Judging from what a possible lead actually said/typed, you should be able to identify whether or not the conversion was legitimate or if it should be disqualified.
In the example above, organic search is generating a lot of leads, but only some of them are actually qualified. That means not all the keywords a website ranks for are driving valuable conversions.
Make your data more accurate by qualifying leads before they get to your salespeople and before you use inaccurate data to measure your marketing success.
Value Organic Leads
Let's say you've figured out that you drive plenty of leads to your website from organic search and a big fraction of those leads are qualified. That's great! Still, do you know how much each lead might be worth to your business?
By valuing organic leads, and then tracking those leads back to the traffic source, you can calculate the value of your marketing endeavors.
To connect the dots, you'll need your Google Analytics data and a lead tracking software.
The dashboard below shows that a business is getting 1,809 new sessions from Google organic SEO.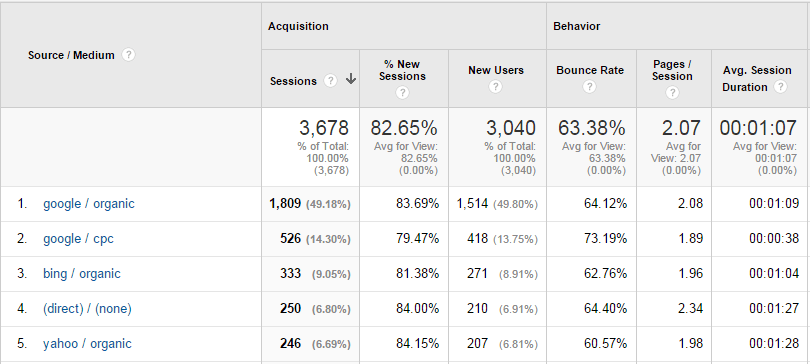 Let's say you paid an SEO agency $40,000 to boost your organic traffic; wouldn't you like to know whether or not those 1,809 organic sessions have provided you with a return on the $40,000 investment?
To calculate the ROMI, you must give salespeople the power to assign value to leads. If you have a CRM or a lead tracking tool, it's easy to track the sales value of leads—all you have to do is add sales value to leads when they come in. Sales value can be based on the product/service the lead is interested in, the budget they're working with, or the size of the product order.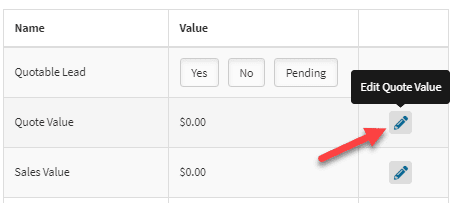 Let's say you receive 124 organic leads in a month, and your salespeople assign a potential sales value to each lead. At the end of the month, you see that each organic lead was valued at $5,485 (on average). And, thus, in total you have $680,118 in lead value from your SEO investment.

Knowing that each organic lead is worth, on average, $5,485, and knowing that you're spending $40,000/month on SEO efforts, allows you to accurately assess the ROMI. This is how marketing agencies prove to clients that SEO is worthwhile, and it's how in-house marketers prove to CEOs that SEO is worth the investment.
Identify the most successful landing pages
In addition to giving you insights on whether your SEO efforts are paying off, lead data can also help you finetune your SEO strategy by focusing on content that generates profit. With WhatConverts, you can generate a landing page report like the one below that will reveal to you how many organic leads found your business by first landing on each specific page.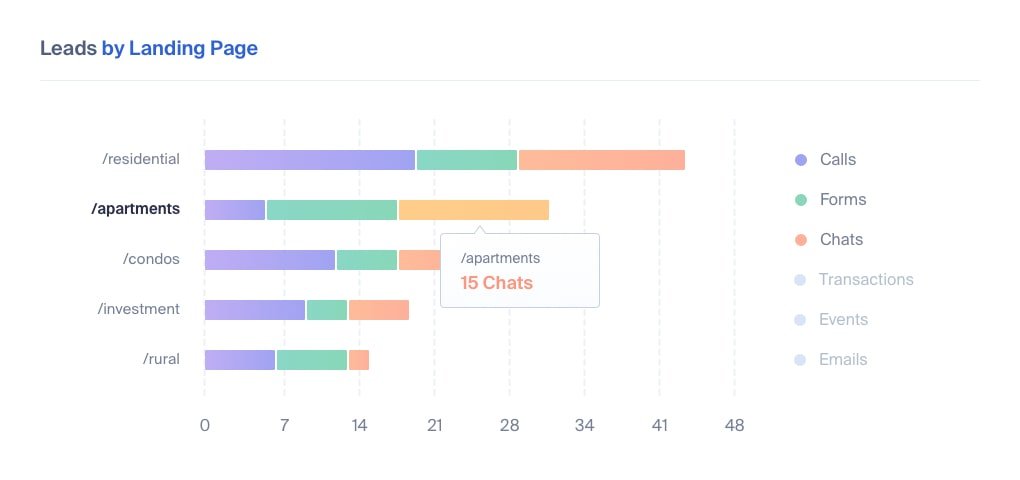 The report includes call leads and filters out leads whom your team marked as not quotable. Based on this data, you'll be able to single out the most potent landing pages and blog posts among the ones that you promote relying solely on SEO. For example, if you have plenty of informational blog posts that rank well and drive a lot of traffic to the website, you'll be able to see which of these pages bring you target traffic and which don't convert well.
Your next step will then be to further improve these pages' visibility in search to get even more leads.
Find out which keywords your lead-generating landing pages rank for
Once you figure out which of the pages that you promote organically bring most of the quality leads, you'll need to find out which keywords drive these leads. You probably already know which search terms you targeted when creating a page and must be tracking their positions. If your website ranks high for the keywords, they are the ones bringing in the leads.
At the same time, it is always a good idea to see the full list of keywords a page ranks for—chances are you'll find some search terms that are not yet a part of your SEO strategy. SE Ranking's Competitive Research tool will tell you how many keywords any page ranks for organically as well as targets in paid search and will provide you with the full list of such keywords.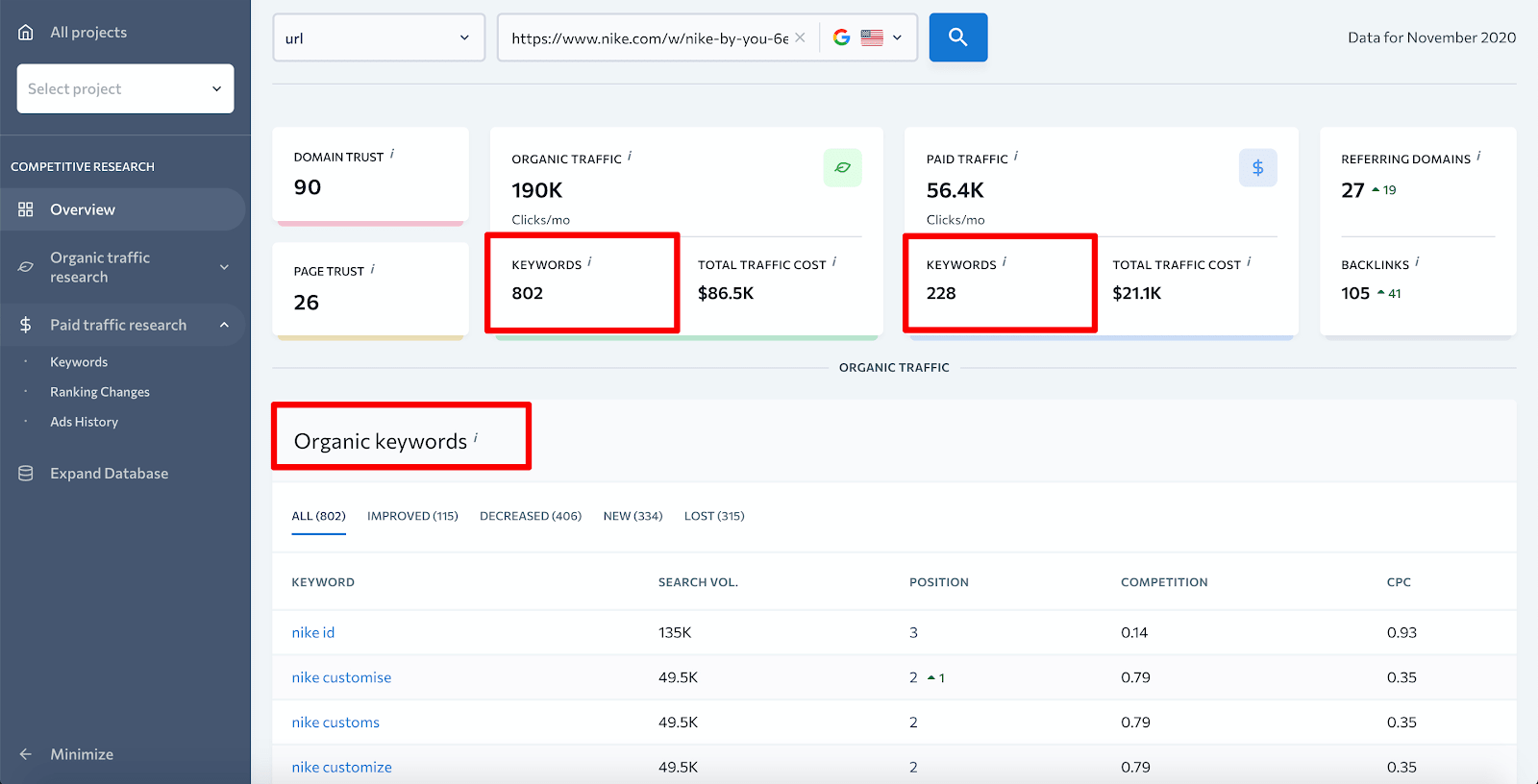 Surely, not all the keywords you rank for account for the leads the page brought. Therefore, you'll have to use common sense and metrics such as search volume and current keyword position to single out worthy search terms you're missing on. Add these keywords to the Rank Tracking tool to monitor their rankings. Over time, when you start ranking higher for the singled out keywords, check whether the number of leads the page generates has also grown.
Another thing you can do is check which keywords the competing URLs rank for. If you find any promising keywords that you don't currently use, consider adding them to your target search terms list.
Organic Leads Value vs Google Ads Leads Value
After measuring the potential sales value of your organic leads, make sure you're doing the same with your cost-per-click (CPC) leads. Comparing your SEO efforts to your Google Ad campaigns based on lead value will allow you to better allocate your time and efforts between organic and paid search.
All you need is to assign value to every lead, and check how many of those come from organic search and search ads. You can then sort your leads by source and generate a report like the one below, which will tell you how each marketing channel is impacting your revenue.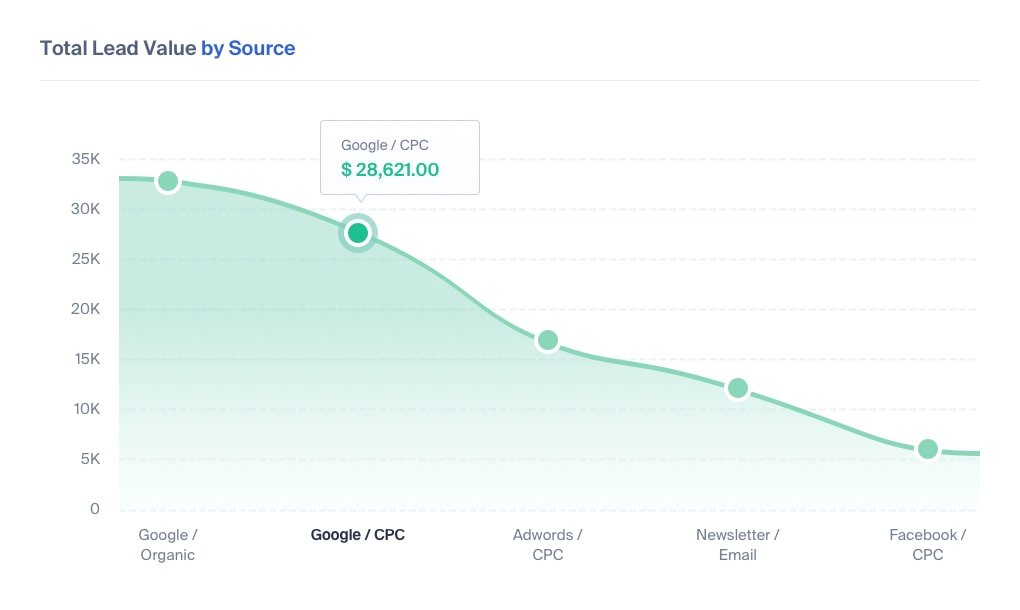 Certain tools can track the campaign ID, the keyword, and the content for each lead that comes in from Google Ads. Ideally, you should see the following level of lead detail whenever you receive a lead from a PPC campaign.

If the tool can track keywords driving leads to your website, it will allow you to reveal which keywords have produced the best return-on-investment.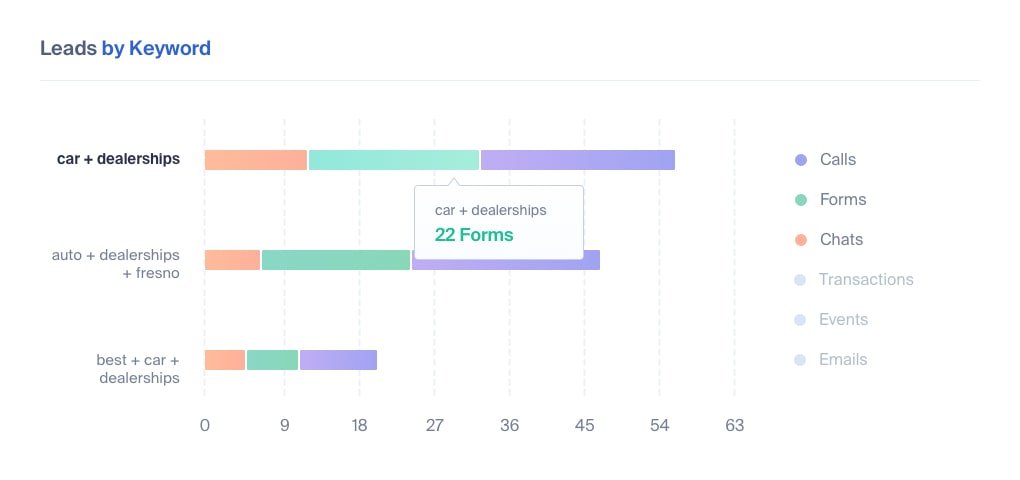 Then, you can go one step further and compare lead data for your organic search terms and CPC keywords to shift your keyword focus accordingly.
The final point: Start tracking leads to rationalize SEO investments
Tracking common marketing metrics is not enough to prove that SEO investments are paying off. To measure the ROI of your SEO efforts, you need to tie SEO to leads, which are then turned into sales dollars. Capture every lead at the first point of contact with your website, validate the data by disqualifying the junk leads, and add sales value to the qualified leads to see how much revenue your SEO campaigns generate.
Doing so will make your data (and reports) bulletproof and will allow you to answer any questions your clients or CEO might have about how your marketing is impacting the business' bottom line.
Meanwhile, tying organic leads to landing pages and keywords will help you adjust your SEO strategy and focus on promoting pages that boast a higher ROMI.
655